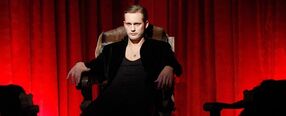 One of Eric Northman's True Secrets is his throne.
Art Department Coordinator Maggie Smith explains how to make a throne fit for a Nordic vamp:
"We looked for a chair with heavy bone structure, something rustic and masculine and Viking-esque. Then we reupholstered it and added some heavy square upholstery nails and draped the whole thing with animal hides and pelts."