True Blood's Pam is a collaborative Wiki created in 2012 dedicated to the character of Pamela "Pam" Swynford De Beaufort from the HBO series "True Blood" and the actress behind her, Kristin Bauer Van Straten. This Wiki will provide a platform for Kristin's MANY charitable organizations. Follow us on Facebook! Pam doesn't bite...much. Oh, who are we kidding...Pam ALWAYS bites.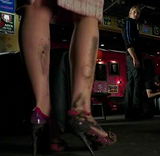 Pam's Moment: Pam's dirty pumps: In Season 2, episode "Scratches", Pam is sent out to track a creature that has ripped open Sookie Stackhouse's back. She must search in the woods. While doing so, her new, beautiful pumps get ruined.
She returns to Fangtasia, claiming "thing 'Thing'", owes me a pair of new shoes. Eric agrees that they were nice pumps.
Read more...
Pam's red sequin dress-
This is a Brian Lichtenberg dress. I saw these dresses in a window at the store in the Beverly Center. It's red and glittery and one shoulder and incredible. I just immediately thought of Pam with that crazy shoulder. We call it her Lady Gaga outfit. The juxtaposition of this crazy dress in Sookie's grandma's house was really funny.
Read more...

Which Season is Pam's best so far for Fashion?
Last weeks results: Will be coming shortly
SEE MORE
Kristin has worked with the ALDF to free this beautiful Tiger that has been stuck within an inclosure for more than 10 years on the side of a highway in Louisiana. See Kristin's PSA: Here. You can also read more about Tony the Tiger and the latest goings on: Here.

"Blah Blah, Vampire Emergency, Blah!"


Create blog post
Blogs
Hey! Well I am one of the millions of people who do have HBO Go. So I wanted to know, I recently found out the character guides are only for Ipads, so can any Ipad user upload or tell me about the g…

Read more >
See more >

Loading RSS data...