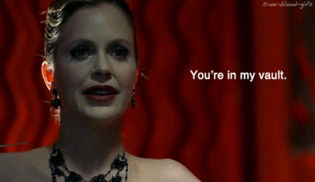 Throughout all 5 Seasons Pam Swynford De Beaufort has had famous quotes or notable quotes.
Quotes by PamEdit
Season 1 QuotesEdit
That "thing" owes me a pair of shoes.
"There's vampire in your cleavage. Allow me."
"Can I kick him?"
Season 2 QuotesEdit
'Now, why'd you have to go kill that maenad? She was a terrific decorator."
"I don't know what it is about me that makes people think I want to hear their problems. Maybe I smile too much. Maybe I wear too much pink. But please remember I can rip your throat out if I need to. And also know that I am not a hooker. That was a long, long time ago"
"This is not just about your relationship, you infatuated tween. There's a bigger picture."
Season 3 QuotesEdit
"Sookie stop, don't, come back."
"Blah, blah... vampire emergency. Blah."
Pam: It can't end this quickly.
Eric: Everything ends. Even the immortals.
Season 4 QuotesEdit
"I will give you 24 hours to deliver that witch to me, and if you don't I will personally eat, fuck, and kill all three of you!"
"Are you fucking retarded?!"
"You need to be somebodies or you won't be somebody at all".
(about Eric) "Shame for you then.. he pulls good string".
"I can put up with a lot, but when you fuck with my face its time to die!"
"Convene your sheriffs so we can kill this uppity wiccan cunt"
"You're a Viking vampire god!"
"We traveled the world together. Killing, fuckin', and laughing."
"Spare me the dyke in the woods routine. Girls, don't squabble. There's plenty of me to go around."
"You fucking cunt, I'm gonna shove my fist up your ass and us you as a hand warmer!"
"Let's go to the ladies room and stare at ourselves in the mirror."
"Sookie i am so over Sookie and Her Precious Fairy Vagina and Her Unbelievably Stupid Name Fuck Sookie!"
"Let this good people practice their constitutional right to be fucking idiots."
"Do not tell me you'll put our entire species at risk for a gash in a sundress."
Season 5 QuotesEdit
"Turn her, I don't even like her!"
(after seeing a dead Debbie and Tara)- "Color me impressed, you guys know how to party."
"The head would be up there"
"There is dirt... in my bra!"
"I am wearing a Wal-mart sweatsuit for ya'll, if that's not a demonstration of team spirit, I don't know what is."
"Let bygones, be bygones; bi-girls, be bi-girls."
"Do you know what happens to women like me when we get old? We're pariahs. we die alone in the dark."
Community content is available under
CC-BY-SA
unless otherwise noted.