Pam becomes a maker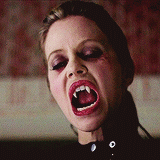 Pam turns Tara into her progeny
Episode: "Turn! Turn! Turn!"
"Turn her? I don't even like her!."
―Pam to Tara
Pam becoming a maker is a very important part of Pam's vamp life.
Pre- Turning
Edit
The Debbie Pelt case
Edit
An angry and jealous werewolf comes to Sookie's house with a shotgun. She intended to kill Sookie, but it didn't turn out like that...
The Deaths
Edit
Sookie arrives home to find Debbie, with an itchy trigger-finger. Tara Thornton shes what is about to happen and jumps in front of the bullet, when Debbie shoots. The bullet bites half of Tara's head and explodes the cabinet. Tara is showered by broken glass as she falls to the floor. Sookie manages to subdue a shocked Debbie, by jumping on her and elbowing her. Sookie grabs the gun a there is one finale gunshot, marking Debbie's death.
The Turning
Edit
Pam runs to Sookie's while Lafayette and Sookie are holding Tara. Pam reveals she came to see Eric. Lafayette asks Pam to change Tara, even though Tara hates vamps. Pam agrees, once Sookie will do a favor and fix her relationship with Eric.
Vamp Tara
Edit
Tara and Pam are buried. At the end of the next day, Tara rises as a vampire and attacks Sookie. Pam throws a brain-dead Tara in Sookie's house.
Aftermath
Edit
Pam and Tara
Edit
Once Tara's brain has healed, she runs from Sookie's and into the woods. Tara goes to Merlotte's and is feed TruBlood. Sam, a shifter, puts Tara in the walk in. Tara leaves Merlotte's. She stumbles onto a Tanning Salon, she goes into the Tanning bed and is dying. Pam using her Sixth Sense, feels Tara and saves her. Pam is currently taking care of Tara.
Tara goes public
Edit
Somehow, after Tara runs from Merlotte's she shows her fangs in a room of:
Sookie Stackhouse, a Fairy, her ex best-friend
Lafayette, a demon/witch, Tara's cousin
Alcide, a werewolf
Sam, a shape-shifter, Tara's former lover
And Arlene, a human, and a gossiper
It is possible that Arlene told some people and soon the whole town knew.