Kristin Bauer Van Straten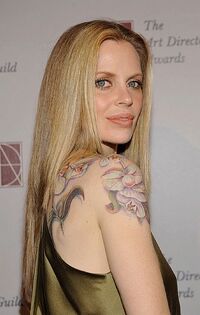 Date of Birth
November 26, 1966
Birthplace
Racine, Wisconsin, USA
Kristin Bauer Van Straten is an American actress who stars as Pam on the HBO's series "True Blood".
Biography
Edit
Kristin grew up in Wisconsin playing sports, riding horses, and shooting guns. Her father was an avid horseman and gun collector and her mother a housewife involved in charities. Kristin moved to Los Angeles and began acting in 1994 after studying fine arts in St. Louis, Boston and New York. She still studies drawing and painting, and does commissioned portraits in between shooting and working to better the environment. Bauer lives in L.A. with her many rescued animals and her South African husband, musician Abri Van Straten, of the band, "The Lemmings".
Selected Filmography/Television
Edit
Once Upon A Time (2011-2012)
Justified (2010)
Private Practice (2010)
True Blood (2008 - Present)
Bones (2007)
Cold Case (2006)
CSI (2005)
50 First Dates (2004)
Just Shoot Me (2001)
Seinfeld (1996)
Trivia/Notes
Edit
Originally read for the role of "Wonder Woman" on "Justice League" (2001), but was declined in favor of Susan Eisenberg. However, Bruce W. Timm remembered her and later cast her as "Queen Mera", the wife of Aquaman, for the episode "The Enemy Below".
She is also a sketcher and painter.
Married Abri Van Straten, a South African singer-songwriter and lead vocalist and guitarist for a South African rock band, "The Lemmings" (August 2009).
Kristin and Liz Vassey runs a company, called "Neurosis to a T(ee)", which designs and sells slogan-covered t-shirts for women.
Is a VERY highly active animal activist.
Personal Quotes
Edit
The other day I realized as long as I'm in this business, I'm going to be hungry. The camera really does add 10 pounds. I'm trying to stay under the weight I want to look like on TV. It's a good incentive to stay slim and is probably adding years to my life. (2010)